CRUST
To make the crust, I used store-bought oatmeal cookies that I pulsed in the food processor. And I loved that taste.
But, surely, graham crackers will do just fine.
*Hint: If you do not have a food processor, place cookies in a one gallon ziplock bag and crush them using a rolling pin… it will work well!
1. Preheat the oven to 325 F (160 C).
2. In a smaller bowl, combine the cookie crumbs, melted butter and sugar. Stir together with a fork until well blended.
3. Line cupcake pans with paper liners.
4. Press 1 tablespoon of the mixture into the bottom of each cupcake liner. You can use a small glass to press the crumbs down.
Bake for about 5 minutes. Transfer to a cooling rack.
Cheesecake Mixture
5. To make the cheesecake batter, beat the cream cheese in the bowl of an electric mixer until fluffy. Blend in the sugar until smooth. Mix in the salt and vanilla. Beat in the eggs one at a time, mixing well after each addition.
6. Spoon about 3 tablespoons of the cheesecake batter over the crust in each cupcake liner.
Strawberry Puree
7. To make the fruit puree, combine the strawberries and sugar in a blender or food processor.
Then spoon it into a piping bag (or don't, because you can easily leave the puree in a bowl and use a spoon to work with it afterwards).
8. Dot the puree over the cheesecake filling.
9. And then use a toothpick or a wooden skewer to lightly swirl the surface.
10. Bake at 325 F (160 C) for about 22-25 minutes.
11. Transfer to a wire cooling rack and let cool to room temperature.
12. Then transfer to the refrigerator and let chill for at least 4 hours before serving.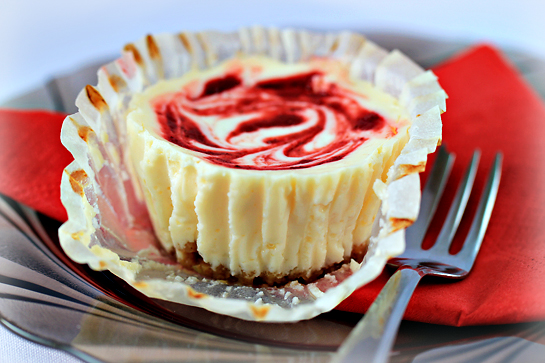 Mmmmmm…!
Enjoy!
**This recipe was adapted from the one and only annies-eats.com. It makes about 24 cupcakes.